---
---
Published April 14th, 2009 in Trading
The Coppock Curve or Guide is an obscure indicator which tracks the market over a long term time horizon. The indicator is quite simple to calculate but it moves very slowly. What it takes back through lag, it gives multiple fold through an uncanny prescience in determining significant turning points. For more information, check out my original post introducing the Coppock Guide.
Although originally created to track the US stock market, it can in effect be applied to any index. In fact last month, the Coppock Curve turned positive for the Chinese market. I'm relying on the slightly modified IC/Coppock Curve. Since they don't exactly detail how their calculation is different than the traditional, I've contacted them to inquire. When I hear back I'll update this.
As you can see from the Shanghai stock exchange index, that was quite a while after it actually bottomed. This the inherent disadvantage of such a long term indicator. But if you were a long time reader you would have caught what I wrote in early November 2008: Time to Consider Chinese Stocks. That's almost to the day when the Chinese market bottomed. Lots of contrarian sentiment, a little dash of technical analysis and a pinch of luck
Since the day I suggested the long side of the Chinese market, the Shanghai index has appreciated by 53%. The numerous ETFs and securities I mentioned have also gone up - the ones that haven't, bottomed in late rather than early November 2008:
Morgan Stanley's China A-Share Fund (CAF) — 80%
Taiwan Greater China Fund (TFC) — 5%
The Greater China Fund Inc. (GCH) — 15%
China Fund Inc. (CHN) — 21.5%
JF China Region Fund Inc. (JFC) — 10%
SPDR S&P China ETF (GXC) — 27%
iShares FTSE/Xinhua China 25 Index (FXI) — 29%
The plus side to this is that if this is a true Coppock signal (that is not a false one) then we are in for another bull market in Shanghai which could last well into next year and take us back up to at least the mid-point of the two extremes - that is to the 3,800-4,000 level.
Also notice how the March 2009 swing low on the Shanghai index is higher than the October/November 2008 lows. And again, in early January 2009, when the S&P 500 was topping, Chinese equities were carving out another swing low. What we have here is higher lows, higher highs. In other words, a confirmed uptrend. And finally, the medium term (50 day - red line) moving average has turned up in support of price with the long term (150 day - blue line) moving average flattening. If this is what it looks like to be, then a pull back would present another opportunity to get on board a long term ride higher.
If you missed the China call and you're kicking youself, do yourself a favor and grab my feed if you haven't already and don't overlook this next opportunity:
Free Traders Magazine Subscription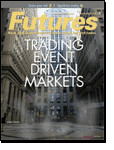 Get a FREE subscription to Futures magazine.
Take advantage of this offer right now because it will expire very soon (US address required).
Futures magazine informs the professional buy side and sell side trader about the evolving market structures. It covers trends on market making, globalization, block trading, technology, electronic trading, inter-dealer trading, soft dollars, electronic communications networks and all technology that impacts the trading community.
Enjoyed this? Don't miss the next one, grab the feed or
---