---
---
Published June 3rd, 2007 in Reviews
I had never heard of the name Declan before arriving at Fallond Picks. It turns out it is a rare Irish boys name: Saint Déaglán. Declan's academic background is quite interesting. He arrived at trading via "a career researcher with a Ph.D. in Nematology and a B.A. (Mod) in Zoology". I'd love to learn more about exactly how he made the switch.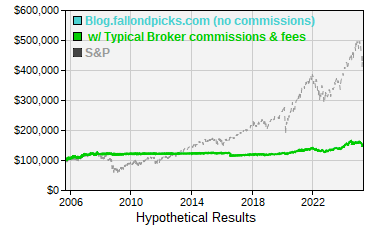 What I like about Fallond Declan is that the man has integrity.
Although unlike most trading blogs he has a commercial service, he doesn't promise that you will make a gajillion if you just subscribe to his newsletter.
He is as transparent as you can get, posting his unvarnished returns (see graph: red=S&P500 green=Fallond's Picks) on his site. What's more, he only charges you money ($15/month) if he's made you money.
From collective2, you can see the details of his trading performance so far:
avg trade length 19.8 days
profit factor 1.9:1
compound annual return 13.7% over 627 days
very conservative: max. drawdown -5.46%
Here's one of his recent break out stock picks:
Do they all work out this nicely? Of course not. And Declan would be the first to tell you that. But I'm showing it to illustrate the kind of setups he likes.
Another reason why I like Declan is that he is willing to share and to teach what he knows. He even uses Kiva, a new in an innovative way to help third world entrepreneurs.
I've uploaded Fallond's most recent newsletter as a sample in my free trading resource box. It is under Reports & Articles and the file is called "Fallond Picks Sample.pdf". You can also check out another sample from March 21st 2007 and an earlier one from April 30th 2007.
But there's more to Fallond's blog than just his newsletter. As an example, check out this interesting post dissecting the TickerSense weekly sentiment poll. He also provides a helpful weekly recap of the technical landscape of the market via the StockCharts.com public charts section. And he even covers my favourite topic: timing the market through novel means.
Suggestions
I know this may be a big challenge but I would recommend that Declan simplify by having only one URL. Right now he has one for his newsletter and another for his blog. There's no reason to have two really. This would help him in concentrating his PR ranking as well as making it simple for new readers.
I'm not sure why he has the graphs of the 3 main indices up at the top of his site, nor could I figure out what the green arrows meant, clicking on them took me to a stockcharts.com graph (?). A bit confusing. They are displayed prominently and take up a significant portion of the screen space above the fold so maybe I'm missing their purpose. They better have a good one though!
There's a small bug only a nitpicker like me would notice. When you go to Daily Breakouts from the homepage, the headings menu changes. I'm not sure why but it makes it harder to navigate as the options have changed.
Also, I would change the title tag from "Fallond trade history" to something a bit more descriptive like Fallond Picks Blog.
Overall, I think Declan has not only a great product on offer, his blog is easy to read, offers much for free and is aestheticaly pleasing with a lot of whitespace. My only real insistence would be that he simplify. Simplify the layout, make it uniform, simplify the URL (use a 301 redirect so he doesn't lose any readers or any PR), simplify the layout and remove any unneeded elements like the 3 market graphs I mentioned above.
Enjoyed this? Don't miss the next one, grab the feed or
---